CONNECT WITH THE NEW ARK ON FACEBOOK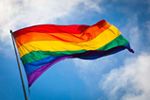 DELAWARE PRIDE:
Saturday, Aug. 5 marks the 20th year for Delaware Pride. The celebration is a free event held on the green in front of Legislative Hall in Dover from 10am to 5pm. The New Ark will be sharing a table with Peoples UCC of Dover and Safe Harbor UCC of Milton. To find out more, visit
www.delawarepride.org
.
AUGUST PULPIT SUPPLY:
During Rev. Robinson's vacation, we will have an opportunity to hear from two other voices of our congregation. On Sunday, Aug. 13 we welcome Rev. Bob Cassels to the pulpit; and on Sunday, Aug. 20, Rev. Susan Scott will preach. We are blessed with such resources!
'ASK THE PASTOR':
On Sunday, Aug. 27, we will be having a hymn sing and a time to "Ask the Pastor" as the message, as well as Celebrations and Concerns, children's time, offering, and benediction circle. What would you like to talk about in worship? And bring your favorite hymn titles!
MARK YOUR CALENDAR:
Sept. 10 is Rally/Homecoming Sunday at NAUCC, when we welcome our guest preacher for the day, Rev. Julius Jefferson from Heritage UCC in Baltimore.
To read Rev. Cynthia Robinson's Sunday sermons, visit her blog.

"Never forget that justice is what love looks like in public."
&nbsp -- Cornel West
Additional Resources: Community Photo Gallery :: Newcomers Information :: Safe Conduct Policy